Slate Tile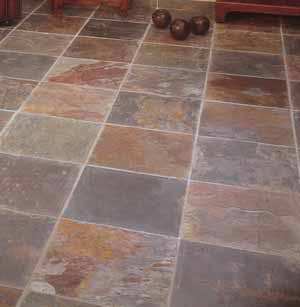 Slate tile is a natural stone tile that is available in a variety of shapes, colors and sizes. Slate creates a unique look for any room it is installed in, whether it as a backslash, shower wall or floor. As with all natural stone products, no two tiles are alike. The unique mineral content of each tile gives it its own unique look and feel. Because slate is so durable, it is used for several different home applications including roofing. You may be wondering about the cost of such a fine quality product. It costs a bit more than porcelain and ceramic, usually running about $2–$6 per square foot. Slate tiles are worth the few extra dollars in that they are so beautiful and durable and last a long time. If you are looking to create a rustic yet modern look, then go for slate tiles. Slate tiles are also available in warm earth tones, which are great for bathrooms.
Here are some more great qualities of slate tiles:
Stain-resistant
Naturally slip-resistant
Good for high-traffic areas because the tiles are so durable and slip-resistant
Smooth with an amazing blend of colors
Wide range of colors: dark charcoal black, rust red, greens, grays, maroons and more. View more colors of slate tiles here.
Fireproof
Easy to clean and maintain
Additional Resources
Find a reliable slate tile installer. Fill out the form below.
Get Free Quotes

- Hire a pro to lay slate tiles for you in your home
Fill in your details and be contacted within minutes
Some of our Cities: