Porcelain Tiles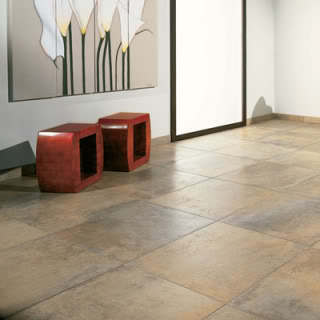 Porcelain tiles are a more durable type of ceramic tile because they are made (fired) at a higher temperature than regular ceramic tiles. The higher temperature makes the tile more dense, thus making it extra durable and more resistant to moisture. In fact, porcelain tiles have a water absorption rate of less than 0.5 percent. Porcelain is one of the most exquisite tiles, used all around the world in luxurious buildings and homes. But just because porcelain is luxurious doesn't mean that it's not affordable and available to regular folk. Porcelain is gaining more and more popularity as the tile of choice for homeowners in that it is so durable and long-lasting, as well as easy to maintain. For a few dollars more than ceramic tile, porcelain can guarantee you a bit more life span.
Here are some more great qualities of porcelain:
Translucent and shiny
Made from finer, denser clay than ceramic
Harder than granite
Frost resistant/frost-proof
Almost completely resistant to wear and tear
Easy to clean: Wash with a floor cleaner of your choice and water
Available in matte, unglazed and high polish finishes
Glazed porcelain is durable
Additional Resources
Find porcelain tile installers. Fill out the form below.
Get Free Quotes

- Find a tile pro to install your porcelain tile
Fill in your details and be contacted within minutes
Some of our Cities: